Monday, June 29, 2009
Drop That Knowledge for GL0 at 4:59 PM
So like every year, the
BET Awards
proves to be a huge disappointment, yet again.. as stated by
Miss Jia
best. Debra Lee (President & Chief Executive Officer of BET) stated the whole show would
undergo a total overhaul
to be dedicated to Michael. And it was obvious 3 days wasn't nearly enough for them. Not only were the
O'Jays
 attributed more than Michael, but there was no real knockout (dance) performance to commemorate his greatness exuded through dance. I'm not even tryna knock Jamie and Ne-Yo's "I'll Be There" rendition at the end, because that was truly heart-felt.. but I (I, as in America) was anticipating a Chris Brown comeback performance.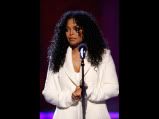 Now I'm hearing through the grapevine that Jay-Z is the reason Chris Brown was taken out of the line-up of MJ tributes. Jay-Z threatened to retract not only his, but BEYONCE's performance as well if
BET
let Chris perform. And
BET
trying to do damage control knew that they couldn't afford to lose both Hov & B's performances.. Because they had already
been
 scheduled to perform, Chris was all speculation.
All in all, Keri's performance was the best to me.. although the ending improv acapella was unecessary and somewhat damaging to the performance as a whole. She shoulda ended it when the music stopped.. just my opinion. The highlight of the night was definitely Janet (
looking absolutely stunning by the way
) and her thoughtful words. Prayers still going out to the Jackson family.
-GL0
6 Comments:
June 29, 2009 at 6:50 PM

 

Awww I understand what you mean....

Look @ the past years and how BET has declined

They supposedly "didn't what they could do in short notice" but I believe they could have done more!
Idk
My channel will continue to skip BET after the tributes

FuCk BET

June 30, 2009 at 8:37 PM

 

The awards were so garbage, they should have went ahead with the awards as originally planned and just had a seperate michael jackson tribute....

Im following your blog, please come by and check out/follow my blog at juicycarter.blogspot.com
thanks

July 3, 2009 at 12:26 AM

 

YO! it was rubbish
completely unorganized - mayhem
i get the quickly altered it to tribute MJ's passing but i say they should of just made a tribute concert & televise it!

the CHris Breezy drama is stupid
i heard the same and yeah...supposedably Bey & J intervened which truly is disappoint cuz i was expecting a career reserecting preformance from him

KERI it honestly could of gone without... & it [the a cappella] did more damage than good

overall BET better make '10 better

plus the fashion was WHACK!
wtfeezy was Bey wearing too short & not cut
Keri dress design was cute, the print was very comic book
& everyone just wasnt on point

thats my 2 cent & change ha

July 3, 2009 at 7:21 AM

 

LOL! yes.. i agree Keri's dress looked VERY comic-booky

July 4, 2009 at 8:27 AM

 

thank you! im glad someone agrees with me. the end of keri's performance was definitely unnecessary. All in all, i think the show was "okay..." and only that.

July 4, 2009 at 9:16 AM

 

Yes honey! Uggh, Keri pissed me off with that, lol