Sunday, September 14, 2008
Drop That Knowledge for GL0 at 7:25 PM
[from photobucket]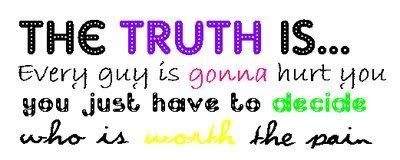 --this is definitely one of the realest quotes i've ever read/heard/seen .. because although most girls don't want to admit it, guys are A**HOLES! (with an exception for the slight few good ones out there) but guarantee about 80% of females have been screwed over at least once by a dude, and the worst part is prolly half of them still with that same jerk.
--those who wonder why i became celibate .. this is the very reason .. i wasn't finna get played/hurt/abused no more (when i say abuse i mean verbal)
--i think its cuz i kept dating the same kind of men and was gettin the same kind of results .. but its hard, when u attracted to a certain type of dude, u cant just tell urself to stop liking them overnight .. and i dont discriminate, but ima stop makin preferences .. i'm going for a white guy next ;D

P.S. NO I'M NOT GOIN HOMO!!! HAHA .. U WHORES!
0 Comments: