Monday, October 6, 2008
(cuz my schedule looks like this)

7:15-7:30am : WAKE UP to Fonzworth Bentley "EVERYBODY"
7:30-8:00am : Eat breakfast in the cafe`
8:00-10:00am : Work
10:00-10:20am : Downtime/Bathroom break/Facebook check
10:30-11:45am : LA 101 (Critical Thinking & Writing)
11:45-1:30pm : LUNCH !!! =]
1:30-2:20pm : Sociology
2:20-3:20pm : Naptime/Myspace check
3:30-5:30pm : Study Hall
5:30-6:30pm : Dinner
6:45-7:15pm : Weights
7:30-9:30pm : Practice
9:30-10:00pm : Icing/Stretching
10:00-3:00am : Finish homework/Reply text messages/Call back missed calls/Watch my sportscenter

--then in 4 hours i get ready to start my day all over again :/
oh and thats ONLY how my mondays go .. dont get me started on TUESDAYS!

[G-BOOGIE, KILLUH: do yall basketball schedules be lookin like this too?!]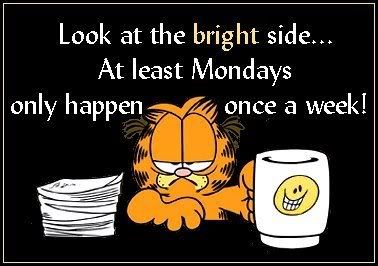 [Good point, GARFIELD!]

grrrr ..
:/
5 Comments:
October 7, 2008 at 12:59 AM

 

Yay. the better to stalk you with. (hehe jk :P)

October 7, 2008 at 1:34 AM

 

Yeah! your mondays are basically shot to HELL!

October 7, 2008 at 1:59 AM

 

ohhhh dayum lol... ur monday's are long as hell.. lol
but i'm sure we all got days like that so don't even trip.. garfield said it best "at least it only comes once a week" lol

October 7, 2008 at 6:00 AM

 

GIRLLLL my monday; wednesday's are shitty

i got classes (3) from 8:30am-12:20
then i get a break to myself from 12:30-1:30
from 1:30-2:30 i got study hall with the mates
then 2:30-3 we stretch
then 3-7pm we practice and lift
then i go to the dorms; do hmwk and chill and shit....
we doing regular pratices now...
but when we was doing trainning; my scheduled looked like yours too; and it was a bitch!

October 8, 2008 at 3:52 PM

 

YEAH my mondays r about da same!!
well dey used 2 b worse becuz during boot camp we had freakin 5 30am mile n a half den sprints n da 110 heat den weights after dat!!

BUT WE HOOPERS G!
dis is wat we do!