Saturday, January 10, 2009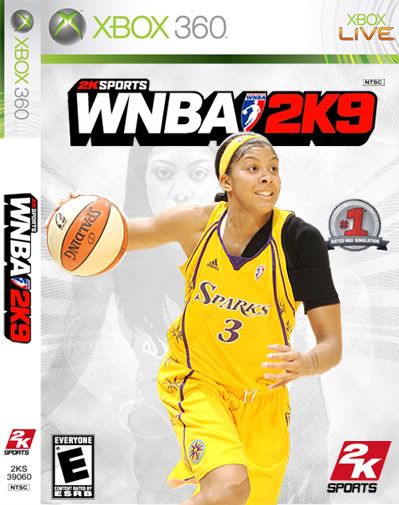 Is the world ready for equality in sports yet ??
No, this is

NOT

a real game, but it

IS

, however, going through much deliberation.. this would be the speculated cover as well.. very

realistic

too.. but I'd love to live to see the day where female athletes are

r

espected

,

treated

, and maybe

paid

as much as

male athletes.

.

but i doubt it.

9 Comments:
January 11, 2009 at 5:36 PM

 

this def. would be cool . females atheletes deserve it .

January 11, 2009 at 5:58 PM

 

mannnnnn i got my hopes all up and was bouta go spend 300 bucks i dont have for an xbox 360 just to buy the game smh lol..being that i am a female athlete i think it'd be nice to get as much respect as the guys but hey, unfortunately somethings never change smh

January 11, 2009 at 6:13 PM

 

thats right i mean.
Male or Female: you should get paid your worth and if it happens you getter then the guys like how sometimes its the case...then pay up!

But i doubt the day will come tho.

Great cover tho...hope she gets it and GREAT GOOGA MOOGA! congratz on ya followers (42 at the moment)

January 11, 2009 at 8:13 PM

 

lol @ Ray Ray .. i thought it was true at first too! i was bout to go ape shit crazy ..

Mikeman, u crack me up on the regular .. 42 is nothin compared to those like Jerv & Lelani .. sittin on 100 each i think .. but yea, i dont think the day will ever come either :/

January 12, 2009 at 12:08 AM

 

man that shit would be DOPE,i was thinkin about a wnba game ever since i was in the 6th grade

January 12, 2009 at 5:59 AM

 

I doubt its true...have the seen the rating for the WNBA games?...they should have a checkers game if thats the case...lol

January 12, 2009 at 6:59 AM

 

Not to be devil's advocate or anything but this game, if ever created, would probably flop. It would be more costly to developers to make and distribute then they would actually make off sales.

I think it'd be great if female athletes were more respected and treated but equal pay like their male counterparts is not likely to happen because at the end of the day your paycheck is determined by how many seats they can fill, how much merchandise they can sell and basically the ability to make money which sadly Women's sports has lacked in comparison to Male sports.

Until those changes happen, I forsee the same inequalities staying for a long time to come.

January 12, 2009 at 8:31 PM

 

Yves, i agree 110%, I don't see it happening either, and the WNBA doesn't make nearly as much as the NBA, very true ..but regardless of the revenue statistics, I would just like to see that female athletes (basketball in particular) are at least being appreciated enough to have a game made to pay homage and show commemoration.

July 30, 2009 at 1:37 AM

 

yeah female athletes need 2 b respected and treated way better than they r....and honestly this game should b made in regard of female athletes bcuz i kno if i waz candace parker i wouldnt wanna sit @ home playin wit kobe bryant on a video game i would rather b playin wit myself! and even younger female athletes they have a right 2 control females rather than males all the time...