Tuesday, November 4, 2008
[AND THEY SAID THIS DAY
WOULD NEVER COME!!!]
IGNORANCE IS AN UGLY TRAIT..
AND GOD DONT LIKE UGLY!!
This is Obama's full Victory Acceptance Speech. Yes, i SHED the tears .. i cried like never before. I'm normally never this emotional, but to be a part of history and have my voice heard w/o screaming, feels GREAT! I can't believe this is happening!
TO THE PROUD, BLACK PPL:
Yes, we can celebrate the fact we have the 1st Black President after 43 (lousy) ones .. lol .. but there is a FINE line between PRIDE && BRAGGING .. don't get caught up and think this is a victory only for us, its for EVERYBODY .. Obama is a person of ALL COLORS and is representing us as a whole. So stop talkin bout BLACK this and BLACK that and remember we're all in this together.
1 LOVE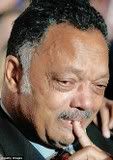 [JESSE JACKSON LETTIN IT FLOW]
-GLO
2 Comments:
KILLUH B AKA BELLA BLUNT said...

November 8, 2008 at 6:50 PM

 

WE DID IT!!!!!!!!!
i cried too.

Mikeman said...

November 8, 2008 at 9:58 PM

 

first off I do have to say I teared up too! NO LIE!!!
I was sooooooo so proud of this moment like i could say more than you'll ever know but U DO.

CHANGE has come and i was apart of it...this is just one of the things ill remember for the rest of my life.

The sad truth to this tho is that some blk ppl may get all high and mighty w/o realizing this is for EVERYONE not just blacks.

but man did Barack SMASH on McCain wit the electoral vote! :)